NEW Order Calculators! Try it out!
How to set up a Poly Bag Sign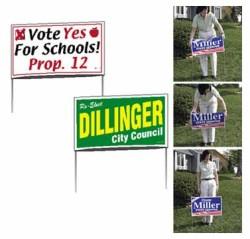 Plastic Bag Signs
If you are looking for a good and affordable way to promote your business, using custom poly bag signs is the best thing you could ever find! No matter which type of a campaign you are developing, in business or in politics, bag signs can support you in your public endeavors! Using custom bag signs is both effective and desirable. It is economical and affordable. If you feel that your financial resources are scarce, custom poly bag signs may become the best advertising option available to you. In our online store, you will find all possible types of bag signs, for all life events. We offer high-quality, neatly designed and durable products. We use bright colors that create a long-standing positive image of your campaign signs, company or political ideals. We create bag signs of various colors and sizes, to make sure that we can satisfy every single need of our clients.
Using bag signs is both economical and effective. Price is one of the major factors that keeps custom poly bag signs so popular among businessmen and politicians. However, don't think that a bag sign is a low-quality product. Despite the growing number of irresponsible manufacturers, we are always committed to producing the highest quality bag signs. We use only durable materials and colors. This way, your message will not fade with time. We have been extremely successful in achieving the right balance of affordable price and superior quality, and you will not find anything better than our online store!
Another benefit is that you can use our bag signs in more than one setting and more than one situation. For example, you can fix our custom bag signs on your lawn, without any additional materials or appliances. We use only high-quality flexible materials, which make it easier for you to manage your bag signs in a manner you need.

Through the years of professional experience, we have learned that custom poly bag signs are appropriate in virtually any type of business, industry, or public campaign. If you want to advertise your business, use our custom yard signs to popularize your products and services. If you are new to the market, you can order bag signs in our online store and use them to raise your brand awareness. You can easily use our custom designed poly yard signs to popularize and defend your political standing. Just see what happens, once you place your bag sign somewhere in your yard, your neighbors and people you have never known will become extremely enthusiastic about your message!
We are focused on providing superior custom bag signs that may carry a logo, a slogan, an image, or your contact information. Choose what you need, and we will do it for you! Use our custom poly bag signs to capture public attention and encourage followers to join you in your fight for truth! Poly bag signs are extremely persuasive, and you will easily expand the pool of your customers. If you are still hesitating, make a call and we will offer the best price for your marketing or advertising campaign!
* This form is for quoting purposes only, Please call 866-744-6778 to place an order.
* If you have not gotten a response within a couple days, please call to confirm your request was received.
[ Colors] [ Example Sign Designs
* Bags are printed on both sides.
* Shipping cost not included in price
* Wire stands included
* There may be UP TO 10% OVER or UNDER run which will result in a REFUND or ADDITIONAL CHARGE.
*** Please account for this in your budget.
To place an order, Contact Us today!
*** We can custom design any yard sign. Call us for details. Steel Wire Frames Stakes included!
Larger quantity orders available upon request.
plastic bag signs from Precision Signz