The best source of referral business you will ever have is a job site sign. You can ask prospects and loyal customers, but most don't really know the folks on their block. Your first class work is on display for them as you transform a home or place of business (seeing is believing). Job site signs are not just cheap. They're effective! Don't make these strangers visit your customer just to get a referral. Place a job site sign on their property.
Custom car magnets
for your vehicle's won't help when they aren't there and after hours are when neighbors are most likely to come by to view your work. Job site signs or "contractor signs" make a world of difference.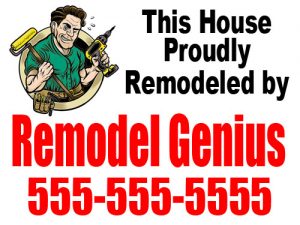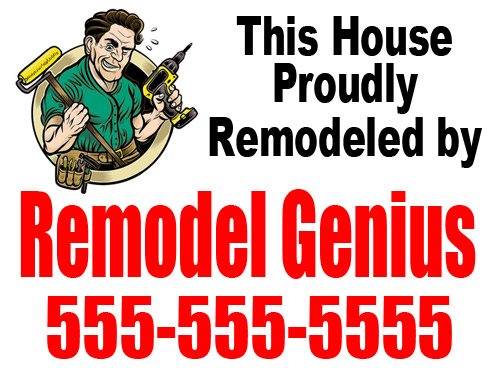 Homes in any neighborhood are built during the same period. You know they'll all need remodeling every twenty years. When your first prospect starts the work, others will follow. Be sure your representatives are leaving flyers for at least two blocks around your work (at the start and at the finish). Your cheap job site sign will do the rest of the work.  Nothing works harder than a
corrugated plastic sign
to generate bids and assure wary home or business owners like a cheap job site
yard sign
. Would you look elsewhere if you can see a contractor sign for the quality work you observe at your neighbor's home or place of business? Make sure your crews take a contractor sign every time they leave for a job site. Directional arrows and corner signs can cause a real stir too. There's a reason real estate agents use them!
"Cheap contractor signs stay on the job for days after your crew has come and gone."
We all have part time and unlicensed contractor headaches. Use contractor signs to let the world know that your quality workmanship is being performed by licensed and bonded craftsmen. Put it on your job site sign.
Cheap contractor signs stay on the job for days after your crew has come and gone. It's foolish to take them down, they're so affordable. Your client won't mind showing off the fact that they have had some quality remodeling or repair done. They might leave your sign up all year (it's happened). Your ideal prospects will be getting constant re-exposure. No television, newspaper, direct mail or door hanger is going to do more, for less.
What if a homeowner doesn't want a lawn sign? If this question arises after you have a signed contract and begun working, explain that your affordable price is partly based on the advertising you get from displaying your yard sign. One large contractor in The Quad Cities area actually advertises, we are so proud of our workmanship, we put a sign on your front lawn.  If you do business with them, you can expect a sign.
If you have a high visibility job site you might want to offer your customer a deal based to leave your sign on the job site for a number of months after you complete the work. For every job that comes of your job site sign you could offer a commission. Cheap job site signs generate top of mind awareness like nothing else for which you pay a commission.
Fill out the Quote form or give us a call (563-594-5583) to realize why our customers can't stop coming back to us!