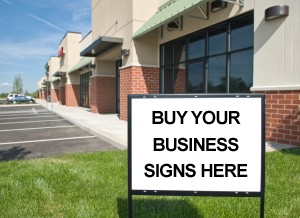 Launch in Style
If you are the proud new owner or founder of a small business, then there is only one thing that sets you apart from all of the other businesses in your area, and that's business signs. If you open your new business on launch day, but have no business signs, yard signs or other promotional materials telling people where you are and what you do, the first day on the job might be a little disappointing. What you need are business signs that are colorful, unique, and durable so that you can inform the local marketplace that you have arrived and are now open for business.
We offer a wide selection of materials and printing styles to meet your needs when it comes to business signs. If you are looking for something temporary or something that can be placed in strategic locations all around the community to inform people of your new business location, then our polycoated cardboard signs are likely to be the perfect business signs for your needs. These signs are coated with a weather-resistant polyethylene so that they won't fade or bleed in the elements.  If you are looking for something that will last a little bit longer, you might also consider our corrugated plastic business signs.
Owning a business can be a lot of hard work, so it is important to keep customers coming in using advertising.  By using yard signs, you can advertise all over town with signs that are printed to your specifications. Get your slogan printed on yard signs saying when you are open and where you are to maximize your customer base. Whether you have been in business for a while, are moving, or even opening a new store, using yard signs are the affordable choice.  There are many styles of yard signs to pick from, so be sure to get the sign that is right for your business needs.