Precision Signz Leverages Proven Marketing Strategies and Resources to
Triple Anticipated Attendance for Event Featuring Ben Carson
BETTENDORF, Iowa – Precision Signz, a leading provider of campaign yard signs, announced today that the company achieved a record turnout for the presidential candidate town hall it hosted on January 7, featuring Republican presidential hopeful Ben Carson. Leveraging proven marketing strategies and resources, including the company's campaign yard signs, Precision Signz successfully tripled anticipated event attendance, attracting nearly 900 Quad City area residents.
"We were honored to host the town hall meeting, as the format of the event provides a more intimate space so that attendees can meet the candidate and ask questions," said Austin Kimler, Creative Director. "The candidate's team expected between 150 and 300 attendees. We were able to use our yard signs and our marketing expertise to overwhelmingly exceed their expectations."
Based in Bettendorf, Iowa, Precision Signz operates state-of-the-art printing facilities and specializes in providing customers with exceptional graphic impression services. For the recent town hall meeting featuring Ben Carson, the company strategically placed campaign yard signs at key intersections throughout the area to drive awareness and excitement.
Onsite, the company provided full custom banners that hung on the surrounding walls with the candidate's slogan, "Heal – Inspire – Revive" and a step and repeat banner with the candidate's logo. The company also provided attendees with lapel stickers and polycoated cardboard rally signs.
Due to the overwhelming response, Carson's campaign management team made the decision to split the event into two separate back-to-back events, demonstrating the candidate's unprecedented commitment to local supporters having already done two town halls in two different cities earlier in the day.
"The town hall meeting was a success for both the candidate and for the local community, and we were thrilled to play such an integral role," said Kimler. "The success of the event is a testament to how important custom printed campaign materials are to creating interest, awareness and excitement among voters."
For more information about Precision Signz and the company's services, including best-priced yard signs, banners, rally signs, and magnetic signs, visit our main page at https://precisionsignz.com.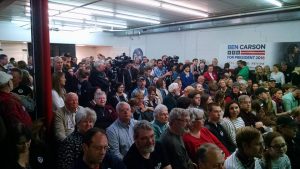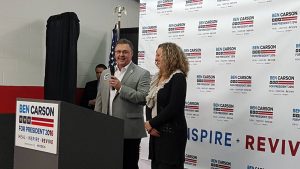 Local news was there, KWQC covered the story.